Meet Team Cherry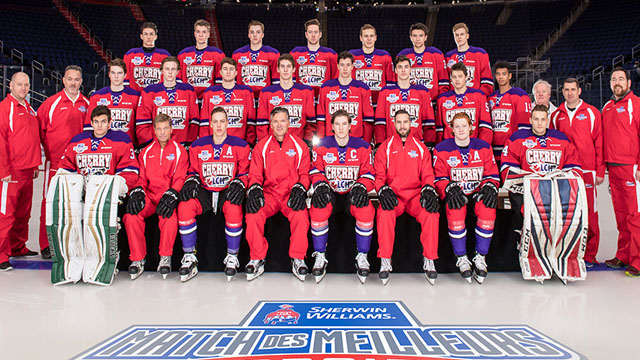 Vincent Ethier
Team Cherry looks to get back in the win column for the first time since 2010 tonight. With plenty of firepower and a mobile blue line built with vision and versatility, there chances are as good as ever.
Here's a look at what Simon Gagne's club will look like tonight in Quebec City.
(G) IAN SCOTT – Prince Albert Raiders (WHL) [2]
Scott describes himself as: Competitive, reliable, calm, focused, consistent
NHL Central Scouting says: Big net presence – excellent positional and angle play – sets square and plays to the top of the paint – plays big in all situations including while down in the butterfly – traditional butterfly style – excellent leg extension protecting the low corners while sealing the ice and protecting the five hole –  very calm and relaxed demeanor – uses his gloves well  – excellent in his post to post play – very efficient and quick crease and lateral movements – smart at reading the cross ice or back door plays– great rebound control – excellent NHL potential.
(G) STUART SKINNER – Lethbridge Hurricanes (WHL) [9]
Skinner describes himself as: Dedicated, smart, workhorse, calm, intense
NHL Central Scouting says: Huge presence when challenging especially on initial shots – excellent compete and work habits – a battler who never gives up – strong physically in the crease area to holds his ground well – solid stance and plays with authority – good overall quickness in most areas – plays the top of the paint area and is square to the shots – shows good lateral quickness and post to post play – good bounce back capability – has NHL size and goalie skills.
(D) ANTOINE CRÊTE-BELZILE – Blainville-Boisbriand Armada (QMJHL) [66]
Crête-Belzile describes himself as: Hard worker, smart, competitive, confident, humble
NHL Central Scouting says: Good skater with mobility to stay with check – keeps his game with the puck simplified – makes timely & effective decisions with the puck – strong positioning on defensive side of the puck; understands his position well – good ability to find open shooting lanes and get puck to net – closes gaps quickly and blocks shots – very efficient player.
(D) CALE FLEURY – Kootenay ICE (WHL) [74]
Fleury describes himself as: Physical, smart, steady, two-way, leader
NHL Central Scouting says: Smooth skating defenseman with quickness and agility– heads up player who is effective seeing the ice to advance the puck and generate chances from the back end – good skill set handling and moving the puck at offensive blue line and possesses a good shot from the point- third year player in WHL with good size/strength asset; continues to grow, already having added 2 inches since entering league as 16 year old – plays heavy minutes and is capable to play in all situations; compares his game to Ryan Suter. Younger brother of Carolina Hurricanes prospect and former Red Deer Rebels defenceman Haydn Fleury.
(D) CAL FOOTE – Kelowna Rockets (WHL) [12]
Foote describes himself as: Two-way, intelligent, aggressive
NHL Central Scouting says: Very smart two way defenseman-excellent passer with very good vision – very good positional defender that uses his size and reach to advantage; hard to beat him one on one -plays top pairing minutes against the opposition's top lines, power play and penalty kill – good puck skills at offensive blue line.
(D) HENRI JOKIHARJU – Portland Winterhawks (WHL) [22]
Jokiharju describes himself as: Skater, quarterback, calm, team player, smart
NHL Central Scouting says: Excellent skater that is very elusive with the puck – can beat the fore check with a pass or his feet – very good passer; has excellent vision – good quickness & mobility; is able to take away time and space defensively with his skating – overall game has developed to where he is an now an impact player for Portland – leads all WHL rookie defencemen in scoring.
(D) PIERRE-OLIVIER JOSEPH – Charlottetown Islanders (QMJHL) [42]
Joseph describes himself as: Smart, competitive, calm, patient, positive
NHL Central Scouting says: Puck moving defenseman with very good size and range – makes effective decisions with puck finding open outlets – good skater with quickness & mobility that will only get better as he gets stronger – good positioning in defensive zone and good compete / battle level – very good game distributing the puck on the power play.
(D) ARTYOM MINULIN – Swift Current Broncos (WHL) [49]
Minulin describes himself as: Steady, good shot, smart, passer, defensive
NHL Central Scouting says: Solid and productive player from the back end in Swift Current – good vision, skills & smarts; one of the points leaders and very effective on the power play – decent speed once in motion; capable of creating odd man rushes for scoring chances –  finishes his checks  with authority and competes hard game in and game out – good coverage and containment down low – effective on special teams play.
(LW) MAXIME COMTOIS – Victoriaville Tigres (QMJHL) [15]
Comtois describes himself as: Passionate, compete hard, leader, relentless, dedicated
NHL Central Scouting says: Solid and skilled winger with good offensive game – plays with an edge & is willing to go to dirty areas to score goals – effective physical game, protects the puck well on plays – good hockey sense and ability to make skilled plays while being checked – strong two way game and effective special teams player – good skater that can generate offense off the rush or play a strong cycle game.
(RW) MacKENZIE ENTWISTLE – Hamilton Bulldogs (OHL) [35]
Entwistle describes himself as: Hard-working, energetic, unselfish, gritty, smart
NHL Central Scouting says: Big and hardworking power forward who is most effective playing a gritty, determined style – very strong skater with decent speed, quickness & agility; has the ability to beat the defender to the outside – very effective and aggressive when on the fore check – very good physical game when finishing his checks & very good battle game for pucks along the boards or space or in front of the opposition net –good puck handling & movement in traffic; can make the good accurate pass or shot – very responsible to play a two way game and  solid in all three zones.
(C) JAKE LESCHYSHYN – Regina Pats (WHL) [31]
Leschyshyn describes himself as: Hard-working, determined, smart, energetic, relentless
NHL Central Scouting says: Solid two way game who can contribute in all facets off the game – strong skater with very good instincts –  plays a two hundred foot game where he is most reliable & trusted to play in all situations. has upped his point production from last season & good knack of finding ways to contribute offensively – excellent job on the penalty kill  – unique breed in that he's effective and capable to play a finesse  or physical game – excellent team player who never gives up on a puck/play.
(RW) IVAN LODNIA – Erie Otters (OHL) [37]
Lodnia describes himself as: Vision, hands, shifty, compete, dynamic
NHL Central Scouting says: Very good offensive hockey sense – has a good puck composure game and effective at making plays at top speed – has quick hands that can mesmerize the best defensive defender – high end skills make him capable of being a game changer – a player you want on the ice when you need that important goal or someone to set up a scoring chance.
(C) ANTOINE MORAND – Acadie-Bathurst Titan (QMJHL) [54]
Morand describes himself as: Quick, smart, compete, winner, vision
NHL Central Scouting says: Skilled center with very good vision & hockey sense – distributes the puck well on the power play – good offensive instincts and anticipates well – effective two way game who supports his defense down low – makes good decisions with puck and can score in tight.
(C) NOLAN PATRICK – Brandon Wheat Kings (WHL) [1]
Patrick describes himself as: Creative, smart competitive
NHL Central Scouting says: Possesses the skating, skills and smarts associated with a top overall pick – very smooth & composed with the puck, doesn't get rattled or panic when pressured – excellent hockey sense with very good vision and anticipation – displays Steve Yzerman leadership ability; makes players around him better – excellent shot, quick & good with the puck in tight quarters – equally proficient as a playmaker and a finisher – effective size/strength game; competitive and willing to engage one on one and stand up for himself and teammates – complete hockey package.
(LW) ISAAC RATCLIFFE – Guelph Storm (OHL) [20]
Ratcliffe describes himself as: Lengthy, smart, poised, strong, confident
NHL Central Scouting says: Big, strong power forward who demonstrates good hockey intelligence and a soft touch around the net – possesses a multi-dimensional skill set where he can make plays on the rush while using his size, strength and reach to be a threat on the cycle – good puck protection game & strong net front presence – willing to compete for time and space and capable of finishing in a variety of different ways.
(C) ADAM RUZICKA – Sarnia Sting (OHL) [27]
Ruzicka describes himself as: Leader, positive, creative, selfless, emotional
NHL Central Scouting says: Skilled power winger with good size/strength presence –  hockey sense and vision allow him to have success playing all three forward positions –  just as capable setting up plays as he is finishing them; poised game with the puck-  possesses an excellent touch around the net – moves very well for his size, displaying deceptive quickness and good ability to maneuver through traffic –  most effective when utilizing his size, skating & puck-skills which make him a consistent threat in the offensive zone.
(C) NICK SUZUKI – Owen Sound Attack (OHL) [16]
Suzuki describes himself as: Intelligent, quick, hard, competitive, skilled
NHL Central Scouting says: Skilled center with elite hockey sense and vision – smart play maker who has the ability to drive possession while being able to play all three forward positions – demonstrates an excellent touch around the net and his ability to read the play ensures that he is always in the right position to produce scoring chances for himself and his teammates – competitive and highly intelligent pivot who is able to raise the play of those around him.
(C) ROBERT THOMAS – London Knights (OHL) [28]
Thomas describes himself as: Smart, creative, fast, smooth, playmaker
NHL Central Scouting says: Excellent hockey IQ – very smart and poised playmaker; the type that makes players around him better – strong offensive hockey sense; very creative game handling & moving the puck – deceptively good to surprise you with a play that keeps his teams puck possession alive or generates a scoring chance – hard working & competitive – capable of making a difference every time he's on the ice.
(RW) OWEN TIPPETT – Mississauga Steelheads (OHL) [4]
Tippett describes himself as: Fast, smart, hard, strong, shoot-first
NHL Central Scouting says: NHL shot and NHL skater – exceptional acceleration and separation speed to pull away – one of the best skaters & shooters in the draft class – prime scoring area is from anywhere inside the offensive zone because of his instant release and heavy accurate snap shot – great knack of anticipating and recognizing opportunity; all he needs is one chance and the puck is in the back of the net.