Top Prospects ready for action in Quebec City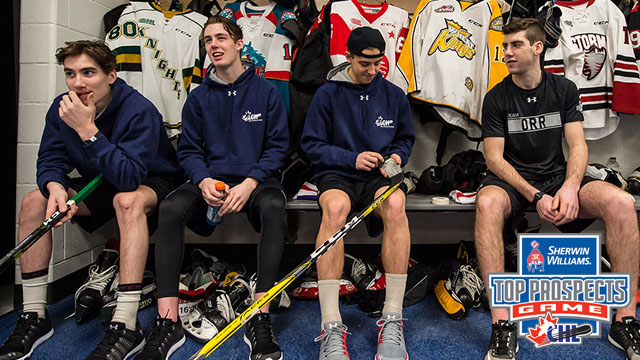 Vincent Ethier
40 of the CHL's top draft eligible prospects are primed and ready for action in Quebec City as the 2017 Sherwin-Williams CHL/NHL Top Prospects game gets underway at 7:00pm Eastern.
The young stars will be under the guidance of well-traveled veterans behind the bench.
Team Cherry head coach Simon Gagne can relate with his players. Gagne competed in the 1998 Top Prospects Game at Maple Leaf Gardens in Toronto before being selected in the first round by the Philadelphia Flyers in the NHL Draft.
Gagne went on to play over 800 NHL games recording 601 career points, but even he finds himself impressed with the talent on display in his hometown this week.
"The players are big and fast and they're really eager," he said. "I feel like guys are getting NHL calibre shots at a younger age now and the game just seems to be getting faster. Back when I played you knew you could try and take advantage of some of the bigger guys with your speed, but now it seems even they are getting better foot speed."
On the opposite bench, QMJHL coaching legend Guy Chouinard will guide Team Orr into battle, using his 19 years of experience to impart wisdom to the draft hopefuls.
"All of these guys should be proud of themselves," he said. "To be invited to this event is an accomplishment in and of itself. I think they need to enjoy the moment and try and make the most of an opportunity to play with other good players."
Chouinard, who coached shortly after his counterpart Gagne graduated from the Quebec Remparts in the late 90's, is second in all-time QMJHL coaching victories with 569.
"This isn't an all-star game," he added. "It's a real accomplishment to get here, but these guys need to be focused right from the first shift."
The 22nd Sherwin-Williams CHL/NHL Top Prospects Game can be seen live across the country on Sportsnet as well as on TVA Sports. Fans in the United States can see the game on NHL Network.